The catastrophic typhoon that hit the Philippines is a big shock to all of us. When we read the reports of our players from the scene, we cry (literally).
But we also are so proud of our community which immediately stood up to "help & protect" OUR PEOPLE.
The man at the featured picture is Jersy. Jersy is an AxieBCH scholar, devoted and hard-working. He has 3 sons aged 5 to 13 years old. Since he is the only one providing for their family as his wife is a full-time mom, it will surely take him some time to fully recover this. But he is not alone, all AxieBCH fam is standing with him.
This is not a single example. You can read this article from our fellow scholar and community helper Bmjc98 to see more heartbreaking pictures of devastating Typhoon Odette consequences.
We will help & protect our people. We are small and may be not that rich Guild. But we have our hearts.
AxieBCH people know what we already did. No need to repeat. This is what we gonna do:
A. AxieBCH founders commit to donating 2 BCH till the end of this year from our own savings to help our players affected by the storm.
B. Jersy, our scholar from the pix, just got his new, more powerful Axie. This will help him to generate more daily income from playing Axie Infinity. We commit to completing Axies upgrade for players in need of it within 5 days. We had a list of 17 players needed of the upgrade, 10 already done, 7 remaining.
C. We commit to complete $GAME token distribution for our newbies (1000 tokens per player) within 2 days.
D. We are also calling SmartBCH and Play-2-Earn community to join our efforts. Our people are your people as well. They need your help, but you need this action as well. Solidarity & humanity makes us better humans.
All donations go to our community helper Bmjc98 wallets, specially created to help AxieBCH players affected by Typhoon Odette. Bmjc98 is not a founder or employee of AxieBCH Gaming Guild, she is a long-time and well-known BCH, SmartBCH, 1BCH, read.cash and noise.cash communities member. You can check the details & get more info in her article here.
SmartBCH address: 0x672C55962521d9fc3CC25D4F30392e0F04242a03
(all tokens welcomed)
Old good Bitcoin Cash (BCH):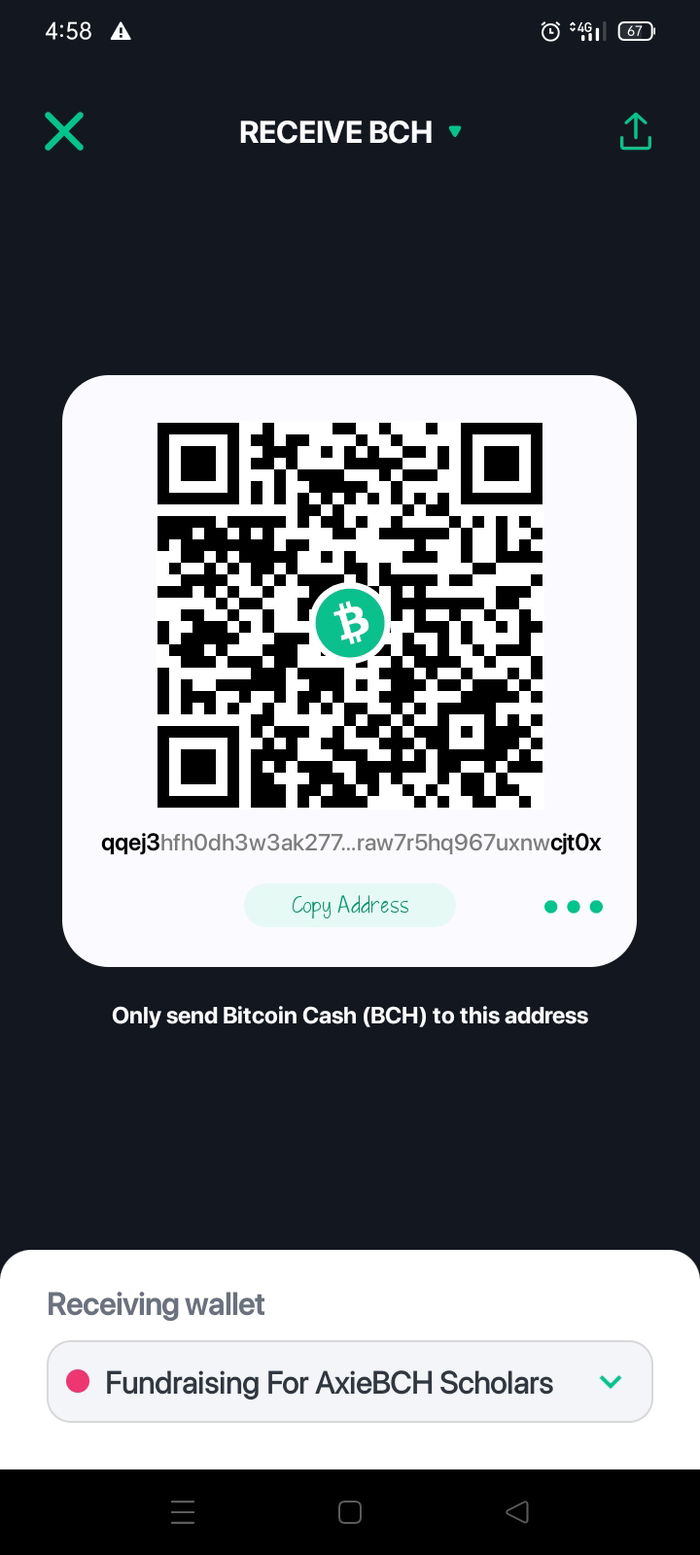 Many thanks in advance & stay safe. Together we overcome this and will become stronger!